On Wednesday, March 22, Sampson Community College (SCC) celebrated the formal opening of its Transportation Annex, home to SCC's public Truck Driver Training school, with a ribbon cutting and dedication ceremony.
Totaling 42-acres in all, the site rests in the Sampson Southeastern Business Center, also known as Clinton's Industrial Park, serving students looking to pursue a career in transportation.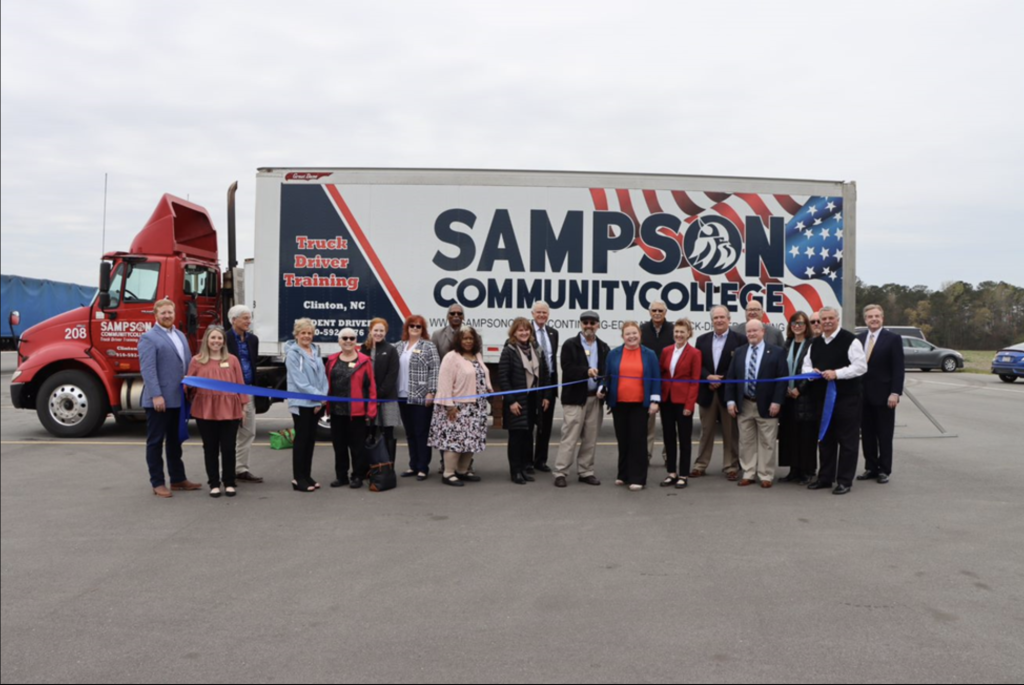 Over fifteen years ago, SCC recognized the critical role transportation plays in the economy of eastern NC and partnered with Ezzell Trucking, Prestage Farms, the Golden LEAF Foundation, and local business leaders to launch the Truck Driver Training program. Growing to become one of the largest public commercial driver training schools in NC, the program started with two donated trucks and trained on a site loaned by Prestage Farms, Ag Provisions, LLC. in Duplin County.
As Truck Driver Training continued to grow in enrollment and reputation, and industry demand for drivers continued to outpace the labor force, SCC soon realized they had to increase the output of CDL drivers to fill market demand– starting with expanding their training facility and bringing it closer to home. In 2017, the Clinton 100 Committee agreed to donate 12-acres to SCC in the Industrial Park to construct a 600 X 600 training pad and classroom, providing the first permanent residence for the College's commercial Truck Driver Training program.
Recently, the College was able to purchase the remaining 29-acres from the Clinton 100, who agreed to sell at the original purchase price– more than tripling the original size of the lot.
Dr. Bill Starling, President of SCC, explained, "On Wednesday, we celebrated the formal opening of the College's Truck Driver Training facility in the Sampson Southeastern Business Center. We've been working to train commercial drivers for over 15 years. This facility allows us to train local folks to meet the needs of our industries and to earn family-sustaining incomes here locally. This was only possible through a joint public-private partnership. During the event, we took some time to stop and celebrate all the work and contributions from so many people who made this facility possible. We're proud of our faculty and their dedication to student training. It is our hope that this campus site will support, not only truck driving, but more occupational programs in the future."
Similarly, Catherine Ezzell-Joyner, President of Ezzell Trucking and SCC Board of Trustees member, voiced about the opening, "The SCC Transportation Annex is a wonderful expansion of the resources our College offers our county's residents and local employers. SCC has the ability to provide life-changing education in this world-class facility, and our county should be very proud. With the nation-wide demand for truck drivers at an all-time high, this facility will help strengthen our local economy."
As students continue training at the new transportation site, led by Kevin Randolph, Director of Transportation programs, along with his qualified team of instructors, SCC plans to keep developing the property– receiving a $1.5 million allocation from the General Assembly last year set to fund a new auxiliary building.
The Transportation Project would not have been possible without the support from SCC funding partners: US Department of Commerce-Economic Development Administration, NC General Assembly, Ezzell Trucking, Prestage Farms, The Golden LEAF Foundation, The Cannon Foundation, and Clinton 100 Committee.
The College also extends its gratitude to supporting partners: Ezzell Trucking, Inc. Hog Slat, McElroy, S&W Concrete, Goldsboro Milling, Prestage Farms, EPES Transport Systems, Schneider National, Sanderson Farms, Howard Transportation, Enviva, City of Clinton, Sampson County Government, and NC DOT.
"This project is truly a collaboration of public, private, and non-profit partners coming together to solve a labor shortage problem," thanked Lisa Turlington, Executive Director of the SCC Foundation. "Our industry leaders guided the initiative from the start through all phases, and the College and funding partners responded to the need. Federal, state, and local government agencies played vital roles of supporting the program that is one of the best in the state."
For more information about the Truck Driver Training Program or how to apply, visit www.sampsoncc.edu/truck-driver. For more information about the SCC Foundation or how to donate, visit www.sampsoncc.edu/foundation.
---
About Sampson Community College
Sampson Community College is a member of the North Carolina Community College System, located in Clinton, NC in Sampson County. The college offers many programs to include two-year degrees, college transfer, continuing education and workforce development options and early college education.